Clinic Management System (CMS)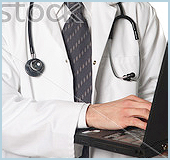 We also offer Clinic Management Systems to give complete end to end solutions to clinics that are looking for administrative support along along with Record Management.
The Clinic Management System is focused on bringing in efficiencies into the clinics by streamlining Appointment management, Registration and billing along with maintaining electronic records for all their outpatients. The system will ensure collection of appropriate data to be able to present dashboards to the key users with a focus on improving clinical and operational efficiencies and reducing costs.

The following are some of the key features of the system:

Key Features
Patient Registration: of both walk-in and phone-in patients
Appointment Management with SMS Reminders to notify patients about appointments and delays. There are separate logins for front office as well as for individual doctors to plan and manage their appointments.
Billing: Outpatient billing and tracking with facility to accept different payment modes.
Reports and Dashboards: To facilitate improved efficiencies through metric measurement
Other Features:
The software also enables
Customer Relationship Management
especially for chronic patients who visit the clinics more often. The software enables the clinic to become a partner in continuous care by enabling follow-up of treatment calendars and so on, thereby enhancing
patient relationship and retention.
Business Model:
Yos offers clinics both
"pay-as-you-use" or " monthly subscription"
options making it easy for clinics to adopt the solution without major upfront investment.